THIS PAGE CONTAINS MAJOR SPOILERS FOR ANGELS WITH SCALY WINGS.

Amely is an orphan taken care of part-time by
Adine
. She is the offspring of
Remy
and his late fiance Amelia, as well as being genetically modified to include
Anna
's DNA, technically making her a parent as well.
Personality
Amely is friendly, not afraid of strangers.
Encounters
First: Amely appears at the second meeting with Adine. Amely greets the protagonist and then disappears.
Second: (Only possible if you go first to investigate Reza's hideout)
Amely nibbles on Adine's leg when you go return the eggs to the hatchey. "It tasty!"
Third: (unseen) In Adine's good ending, you visit her place to babysit Amely.
Trivia
In the True Ending, Remy demands to collect her out of the orphanage, after he hears Anna's story.
Gallery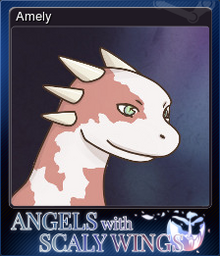 Community content is available under
CC-BY-SA
unless otherwise noted.